Autosub2, Weddell Sea, Antarctica, 2001
Autonomous Underwater Vehicles (AUVs) are well-suited to research, exploration, and data-gathering in the polar seas and oceans. However, there are risks and there are challenges. This Guide records how those risks and challenges have been faced and overcome in the Arctic and Antarctic by several groups.
Dealing with the harsh Polar Environment adds a layer of difficulty to AUV operations not seen in temperate waters. Learn about ice in the ocean and how others have tackled these problems.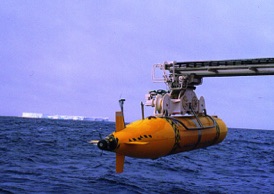 Autonomous Underwater Vehicles (AUVs) have been in development for over 35 years, and their use as a tool for science and commercial surveys has become commonplace. In the past 25 years, a number of operations have been undertaken in ice-covered waters. Despite this length of experience, often the logistics and support of Polar AUV operations are more complex than for those conducted in open water. While the actual operation of the vehicle may be little different than in open water, the manner in which the mission is planned and executed can vary substantially. This reflects the reality of the hazards faced by a vehicle travelling beneath an ice covered surface. Finally there is a perception that the risk of losing a vehicle is higher than in open water.
This Guide brings together a number of resources that may be of help to those contemplating Polar AUV missions for the first time, or experienced users planning missions in a region or under ice types not previously encountered. Detailed Case Studies provide insights into operations that may not always be captured in published reports or papers. The Technology pages tease out issues concerning the use of equipment and sub-systems in the Polar Regions. The Polar environment itself poses numerous challenges - whether on the deck of a ship or at an ice-camp. Gaining prior knowledge on the different types of ice likely to be encountered will be of real benefit to mission planning.
Disclaimer: The SUT Panel on Underwater Robotics, who now maintain this site, stresses that the practices outlined in this guide simply reflect the observations and advice of those who have operated vehicles in Polar Regions, and that it or the SUT cannot bear responsibility for the actual conduct or outcome of any AUV polar mission.
Updated April 2022: The Chronology is up-to-date and several new examples of AUV technology have been added. Additional Case Studies from the user community are most welcome, including from past expeditions from 2006 onwards.